Enjoy the new delivery service in 1 hour in Paris !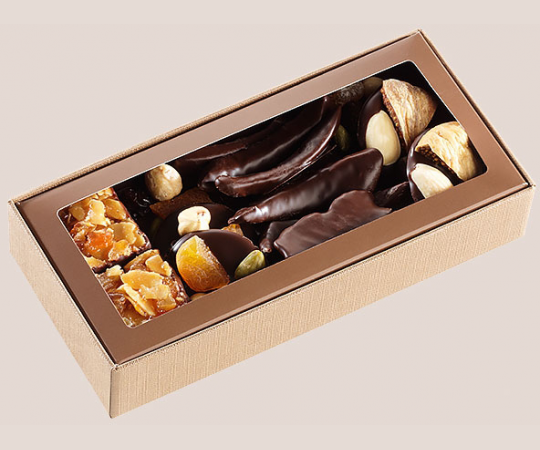  
Boite chocolats croquants 140g
Acclaimed by Jean-Paul Hevin's enthusiasts, this exclusive creation, of 24/32 chocolate candies, is filled with orangettes, dark chocolate-covered figs, fine palets 76% cocoa, mendiants gourmands...
Cocoa paste, sugar, fig, candied orange slices (orange slices, fructose-glucose syrup, sugar), apricot (SULPHUREDIOXIDE E220), cocoa butter, ALMONDS, WHEY flour, NUTS, black grape (black grape, sunflower oil, SULPHUREDIOXIDE E220), BUTTER, candied ginger (ginger, sugar, glucose syrup), PISTACHIO, icing sugar, CREAM, honey, EGGS, water, emulsifier : SOY lecithin, natural vanille extract, powder vanilla.
Made in our factories that handle: sesame, fish gelatin.
Nutrional values per 100g: Energy: 1882kJ /452kcal, fats: 26g, of which saturated fatty acids: 12g, carbohydrates: 42g, of which sugars: 32g, proteins: 7,1g, salt: 0.06g.
Acclaimed by Jean-Paul Hevin's enthusiasts, this exclusive creation, of 24/32 chocolate candies, is filled with orangettes, dark chocolate-covered figs, fine palets 76% cocoa, mendiants gourmands (apricot, pistachio, nuts) and florentins caramelized with honey from the Auvergne mountains