Express delivery in Europe and Canada with Chronopost. Free delivery in France from 70 € of purchases.
Tasting tips
Published : 09/07/2022

Did you know? Temperature plays a crucial role in tasting. If it's too cold, the aromas will be numbed, and the textures will be too firm. If it's too hot, mousses will be too soft, and the textures less pleasant. Follow Jean-Paul Hévin's recommendations to enjoy our pastries with even more pleasure.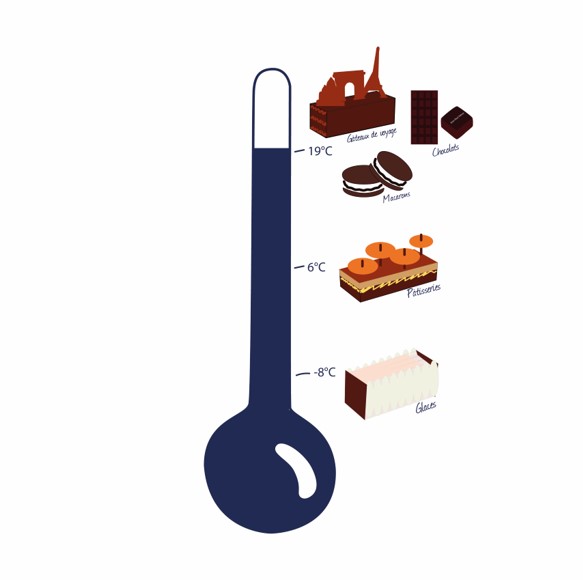 Between 18 and 20°C

                                                

CHOCOLATE BARS AND BONBONS

Chocolate is best enjoyed at room temperature between 18°C and 20°C.

In case of high temperatures or if you're traveling with our chocolates, we recommend storing them in a well-sealed insulated bag.

Once you've arrived, let them come back to room temperature for 24 hours before enjoying them.
MACARONS

Jean-Paul Hévin macarons are regularly recognized as among the best in Paris.

The chocolate macarons are particularly renowned, with a wide selection of Grand Crus that are regularly updated.

We recommend storing and enjoying them at room temperature, around 19°C. Avoid the refrigerator as it would add too much humidity.

      
TRAVELLER'S CAKES

These cakes, such as JFK, Douala, or CDG, can be shipped anywhere in France and even in Europe.

Take your pastry out of the refrigerator 2 to 3 hours in advance to allow it to come back to a temperature of approximately 18°C to 20°C. Before serving, insert the chocolate decorations on top.
Between 6 and 8°C
PASTRIES

Tonka, raspberry, Jardin des plantes, Bergamot... Should be enjoyed at around 6°C to 8°C.

Take your pastry out of the refrigerator 20 to 30 minutes before tasting and use a knife dipped in hot water to cut beautiful slices.
Exceptions
LE MACARON:

A classic from the house! Two macaron biscuits rich in almonds filled with a semi-bitter dark chocolate ganache, all adorned with chocolate shavings.

Take out 1 hour in advance for the ganache to reach the proper temperature (approximately 10°C).
LE HAPPY

A haute couture all-chocolate birthday cake created by Jean-Paul Hévin.
Inside: almond dacquoise, French meringue surrounded by dark chocolate mousse, and decorated with salted chopped pistachios.

We recommend taking it out of the refrigerator just before tasting.
From -8°C to -10°C
VACHERINS AND ICE CREAMS

The ultimate summer dessert!

Take the vacherin and its insulated box out of the freezer:

For an 8-person vacherin, allow approximately 2 hours and 30 minutes before tasting.

For a 5-person vacherin, allow 1 hour before tasting.

The ice cream texture will be perfect, the meringue crispy, and the whipped cream delightfully smooth.

Our Exquis Momo, on the other hand, are best enjoyed right away!