COVID-19 : Maison Jean-Paul Hevin closes all its boutiques and its e-shop.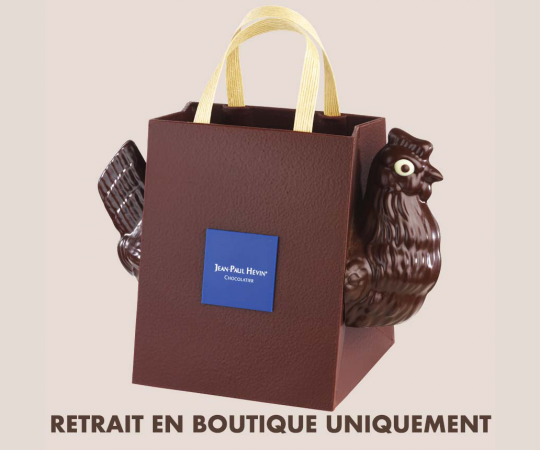  
Poulensac dark chocolate
Dark chocolate hen filled with dark and milk chocolate. Limited Edition.
Filling (61.10 %) (sugar, cocoa mass, cocoa butter, ALMONDS (10.97%), HAZELNUTS (9.94%), MILK (7.03%), BUTTER (3.11%), PISTACHIOS (1.47%), icing sugar (sugar beet), anti-caking agent (corn starch)), fine crumbled biscuit (WHEAT flour, sugar, anhydrous MILK fat, MILK sugar, MILK protein, salt, malt extract (BARLEY), baking powder : sodium bicarbonate), WALNUTS (0.53%), caramel powder (skimmed MILK powder, MILK proteins, sugar, BUTTER), LACTOSE, water, inverted sugar (sugar, water), emulsifier: SOYA lecithin , LACTOSERUM, glucose syrup, vanilla, sea salt, vanilla extract), cocoa mass, sugar, cocoa butter, emulsifier: SOYA lecithin, whole MILK powder, natural vanilla extract, food coloring: titanium dioxide, spirulina, coating agent: shellac gum. Made in our laboratories that handle: eggs, fish gelatin.

Nutrition facts for 100g: Energy: 2359 kJ/568 kcal, fats: 40 g, of which saturates: 22 g, carbohydrates: 38 g, of which sugars: 35 g, proteins: 8.8 g, salt: 0.06 g.
Easter collection "Voyages-Voyage" available from April 08 to April 29, 2019.
A dark chocolate hen easy to carry. A touch of humor by Jean-Paul Hévin on ths JPH 68% dark chocolate blend filled with dry fries that are stuffed with dark chocolate and milk chocolate.
Limited Edition.
No shipping. Only available to retrieve in our shops.
Dimensions : 18 cm
Preservation : 30 days at 19°C