Enjoy the new delivery service in 1 hour in Paris !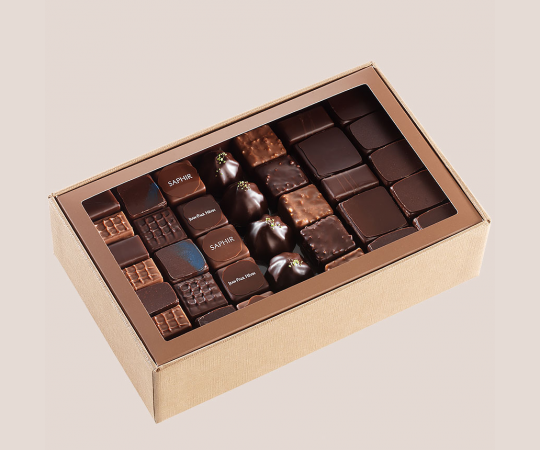  
Classical chocolate box 1 kg
123 dark chocolate in assortment. Ideal to taste all the aspects, tastes, and flavors of JPH's chocolate creations. From fruity ganaches to crispy...
Cocoa paste, sugar, CREAM, cocoa butter, ALMONDS, BUTTER, skimmed MILK powder, HAZELNUTS, inverted sugar (water sugar), chestnuts paste (chestnuts, sugar, glucose syrup, vanilla extract), fruit puree (raspberry [raspberry, sugar], strawberry [strawberry, icing sugar, lemon juice], grapefruit [grapefruit, sugar], pear [pear, sugar, anti-oxidant: ascorbic acid], yuzu), icing sugar, water, juice of [lime, tangerine, yuzu, orange], honey, glucose syrup, nougatine (ALMONDS, sugar, glucose syrup, BUTTER), decor (sugar, vegetable fats (coconut - palm kernel), starch rice, MILK, food coloring: Riboflavin 5'-phosphate, cocoa butter, dehydrated glucose syrup, emulsifiers: sunflower and SOYA lecithin, icing sugar, natural vanilla flavor, spirulina extract), fondant (sugar, WHEAT glucose syrup, water), fine crumbled biscuit (WHEAT flour, sugar, anhydrous MILK fat, MILK sugar, MILK protein, salt, malt extract (BARLEY), baking powder: sodium acid carbonate), emulsifiers: SOYA and sunflower lecithin, PISTACHIO paste, tea, coffee, dextrose, candied grapefruit (grapefruit peel, water, sugar, lemon juice, glucose syrup), blackberry jam (blackberry, sugar , gelling agent: pectin), caramel powder (skimmed MILK powder, MILK protein, sugar, BUTTER), coffee paste (sugar, HAZELNUTS oil, HAZELNUTS, liquid coffee extract and coffee powder), candied ginger (ginger , sugar, glucose syrup), vanilla, LACTOSE, LACTOSERUM, natural vanilla extract, fresh basil, food coloring: cochineal extract, curcumin, spirulina, cinnamon sticks, laurel infusion (laurel, water), lime zest and lemon peel orange, gelling agent: agar-agar, flavors (bergamot, bigarade, orange), thickener: xanthan gum, coffee extract, ginger, cocoa powder, natural cinnamon bark, sea salt, ALMONDS biscuit powder : ALMONDS, sugar, EGG whites, water, cocoa powder, icing sugar, food coloring (Cochineal, Allura Red AC, Brilliant Blue FCF, Tartrazine, Ponceau 4R), chinese star anise, coriander, nutmeg, Cayenne pepper. Made in our factories that handle: fish gelatin. Tartrazine, Ponceau 4R and Allura AC red food coloring may have adverse effects on activity and attention in children.

Average nutrition facts per 100g: Energy: 2180 kJ / 525 kcal, fat: 39 g, including saturated fat: 21 g, carbohydrates: 35 g, including sugars: 32 g, protein: 6.82 g, salt: 0.07 g.
123 chocolate candies for connoisseurs. This collection, available in a traditional box, will give you access to all the aspects, tastes, and flavors of JPH's chocolate creations. From fruity ganaches to crispy praliné chocolates, this journey will keep all your senses alert.
Conservation : 20 days at 19°C.
Dimensions : 21 x 14 x 6 cm
Price per kilo : €99
JEAN-PAUL HÉVIN ALSO RECOMMENDS YOU...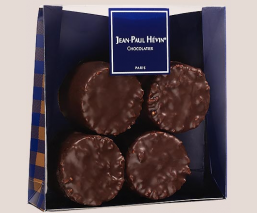 Delicious dark chocolate rochers, filled with almond and...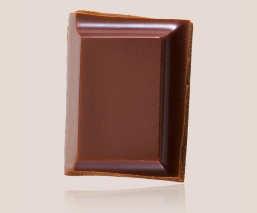 Caramel milk chocolate bar with refined salt.  Notes of...
Assortment of 30 mini dark chocolate and milk chocolate...